Biographical Information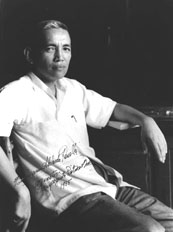 Benjamin Resella: 1955
Benjamin Abelardo Resella, born on May 14th, 1917 in the Tondo district of Manila, Philippines to Teodora Velayo Abelardo and Isabelo Resella. He had three older siblings who either died at birth or at early age from an epidemic of Beriberi. His father, Isabelo Resella, a renowned jewelry designer,sculptor, and scenic artist, died when Ben was three months old. He also left behind three other children from his previoius marriage: Josefina, Domingo and Marcelino. His beloved mother, Teodora, lovingly nicknamed, Orang, raised Ben. By profession, she was a school and piano teacher, an embroidery designer and scenic artist. She was a well traveled businesswoman who could speak seven dialects/languages. At the age of five, Ben and his mother traveled to the United States.
On the long voyage to the United States, his mother Teodora, took ill in China. They would stay in China for 6 years. Teodora married Amado Luna, a traveling Filipino musician. In China, Ben's mother would leave her mark. She was a kindhearted person to people and animals alike. Because of her humanitarian work, she was dubbed "The Aling Orang of Shanghai" in the Philippine Free Press. She helped troubled and stranded Filipinos in Shanghai, fed the poor, took the homeless and tried to save the countless abandoned Chinese infant girls, two who she would adopt: Lolita and Pinat. The family, now numbered five, returned to the Philippines.
Ben learned the art of scenic designing from his grandfather, the famous painter, Juan Henson Abelardo. He started as an apprentice to his grandfather at the age of 11 at Juan Abelardo Scenic Studio at Manila's Grand Opera House. At the age of 15, Ben began his humble beginings in the Motion Picture Industry as a Developing Tank Cleaner Boy at Manila Talkatone. He learned about the developing processes of motion picture film. He would make his way to printing, then to Film Editing and finally to the Camera Department, where he concentrated on Photographic Special Effects. He worked for Sampaguita Pictures as an Art Director.
In 1941, World War II interrupted Ben's promising career of scenic art and film. He enlisted in the war and served his country. During Japanese occupation, his oldest half brother Domingo Resella, who worked with the American Brothers of Ateneo de Manila University as their scenic artist died. Ben would be taken as prisoner and forced to walk the Bataan Death March of 1942 along with 68,000 Filipino and 12,000 American POWs and thousands of civilians including men, women and children. They would be made to march from the surrender at Bataan north to Balanga with no food or water. If any person fell they were quickly bayoneted. Thousands died from exhaustion, starvation, torture, and executions. After arriving in Camp O'Donnell, Capas at Tarlac, Ben had to survive the horrifying and dismal life in a Japanese Concentration Camp. Ben received three medals for his service in World War II. On December 6th, 1988, President Ronald Reagan awarded Sergeant Benjamin Resella, the War World II Victory Medal, the Asiatic Pacific Campaign Medal, the American Defense Medal, in addition to the Philippine Defense Ribbon and the Presidential Unit Emblem Ribbon.
Benjamin Abelardo Resella married Consuelo Fajardo Ubaldo on April 8th 1943 at San Marcelino Church in Manila. Their first child Cholita, born during the war, died at 5 months after days of bombing by the United States. 1945 marked the ending of World War II. Their family grew and prospered, they had seven more children: Theodina, Rhodamin, Esmeralda, Benjamin Jr., Francis, Clarissa and Aaron. Ben would finally finish the journey to the United States that he had started so many years ago. He would take his family, all nine and travel by ship "The President Wilson" to the ports of San Francisco on May 21st, 1963. His American Legacy in the Film Industry began with "Hello Dolly" in 1967. The rest is history.
We apologize for any errors and omissions that may have occurred on this page. You may transmit additional information or comments to rodney@resella.com for future updates.